Modern digital marketing relies on technology to analyze the comprehensive performance of a business' marketing campaign, and help guide future strategies and decision-making. The best way to define a digital marketing platform is to break it down into its two parts: digital marketing and digital marketing platforms. 
Let's take a look at how the two relate:
What is a Digital Marketing Platform?
A digital marketing platform is a solution that supports a variety of functions within the realm of marketing over the internet. According to Gartner, it is important to note that to classify as a digital marketing platform, the solution cannot claim to support every component of digital marketing, but rather will rather cover functionality like media buying, performance measurement and optimization, and brand tracking. However, it may not cover other marketing strategies, like SEO or social media.
Gartner also notes that in the context of modern business, digital marketing platforms are tools that provide multiple business or technology capabilities. While there are tools to address specific functions within one business need, such as a single tool to schedule social media updates alone, platforms support multiple marketing functions across various needs. Digital marketing platforms typically enable an extensive set of multiple functions at once by use of APIs, integrations, and partnerships with other applications or data sources.
What is Digital Marketing?
Digital marketing is any marketing initiative that leverages online media and the internet through connected devices such as mobile phones, home computers, or the Internet of Things (IoT). Common digital marketing initiatives center around distributing a brand message through search engines, social media, applications, email, and websites. 
Today, digital marketing often focuses on reaching a customer with increasingly conversion-oriented messages across multiple channels as they move down the sales funnel. Ideally, marketing teams will be able to track the role each of these messages and/or channels plays in reaching their ultimate goal of gaining a customer.
Examples of Digital Marketing Assets
In short, a digital marketing asset is any tool that you use online. Here are a few of the more common examples:
Social Media Profiles
Website
Images and Video Content
Blog Posts and eBooks
Reviews and Customer Testimonials
Branded Logos, Images, or Icons
What is the Importance of Digital Marketing?
Digital marketing is on the rise – since 2015, marketing professionals report spending steadily more of their budgets on digital marketing methods, while at the same time, reducing spending on traditional marketing outlets.  This is because consumers are increasingly present on online channels, giving businesses more opportunities to reach their ideal customers, all day, every day.
With this increased use of technology, digital marketing platforms have become essential to the digital marketing world. Tech advancements such as AI and machine learning make marketers better equipped with the marketing technology they need to reach consumers on digital devices at just the right moment, as  opposed to traditional marketing methods,which have to be planned and placed well in advance. Platforms such as Facebook, Instagram, Tik Tok, and blogs have now taken over the digital marketing space.
Consider the following: 
The world has

7.9billion people

and 5.03 billion of those people use the internet regularly
This means that 63% of the world's entire population can be reached online via digital marketing
Nearly

30 percent

of consumers would rather interact with brands online, via social channels, versus going to a store.
To be competitive, organizations need to be present across multiple digital channels and devices. However, this doesn't mean offline channels should be ignored altogether. The best way to meet consumer demands is with an omnichannel presence – which combines offline and digital elements.
Here are a few more reasons why digital platforms can be an asset to your business: 
You can build an online community to represent your organization across all platforms. 

45% of consumers

prefer to purchase online, then pick up in a store – meaning their buying decisions come primarily from a business' digital presence.
Digital marketing allows for personalized exchanges between consumers and producers. These personalized exchanges make customers feel heard and understood by a business, which ultimately

increases

online revenue

. 
An online presence, particularly across social media platforms, increases appeal for consumers and establishes trust between buyers and sellers.
The use of

APIs

allows a 3rd party to facilitate the exchange for users.
By employing digital marketing initiatives, your organization can create a more cohesive, customer-oriented program that maximizes benefits for your clients. Digital marketing platforms can also be beneficial for easy measurement and adjustment of company goals and bring you a better return on investment. 
These platforms and initiatives open up the door to ongoing engagement even after a purchase, which can help marketing teams more effectively foster brand loyalty and improve customer retention.
10 Types of Digital Marketing Platforms with Strategies & Examples
Ten common types of digital marketing platforms include:
Social Media
Influencer Marketing
Content Marketing
Email Marketing
Search Engine Optimization (SEO)
Pay-per-click (PPC)
Affiliate Marketing
Mobile marketing
Marketing Automation Platforms
Marketing Analytics Platforms 
Let's take a deeper look at each:
1. Social Media Marketing Platforms 
Today's consumers are highly reliant on social media platforms such as Instagram, Facebook, Tik Tok, LinkedIn, and Snapchat. This is why it is essential that brands are active across multiple social media accounts. Consider these stats: 
On average, consumers have about

8 social media accounts

.
The average adult spends an average of

2 hours and 22 minutes

on social media per day – that's almost 2 and a half hours for businesses to interact with and convert consumers every day.
Out of the 5.11 billion people who have a phone,

3.26 billion

access social media using it.
People spend about

1/7

th of their waking time on social platforms.

64%

of consumers want brands to connect with them on social – this is practically an invitation to interact, and ultimately, convert. 
Social media platforms allow marketers to reach their prospects in a myriad of ways. First, marketing teams can use these channels to distribute paid ads and sponsored content. Each platform has a way for marketing teams to create paid ad campaigns and segment users so these ads appear on the feeds of target audience members. While each platform is different, most have capabilities that allow marketing teams to place ads based on location, job title, interests, age, etc., to ensure that a business's social media posts reach the right audience for maximum conversion potential.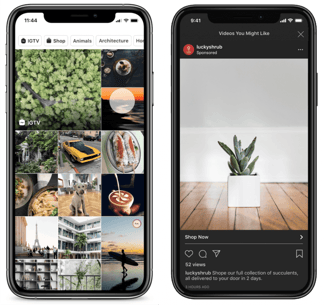 Credit
Social media is also a great way to promote products or resources organically to your followers and engage with consumers. Chances are, people that follow your brand on social media have likely purchased from you in the past. Interacting with them on social media or answering customer service-oriented questions is a great way to ensure continued engagement with the brand and cultivate positive experiences and customer loyalty. 78% of consumers want brands to use social media marketing platforms to help bring them together – the opportunities for connection and interaction are endless!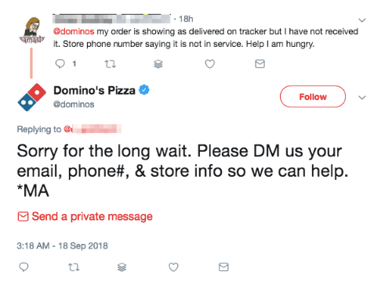 Credit
Domino's Pizza customer service on Twitter
Finally, marketing teams can use social media to build their brand and establish a voice that can make them popular to follow and share. For example, Wendy's flippant and funny tone has made them exceptionally popular on Twitter, commonly earning likes, retweets, and responses.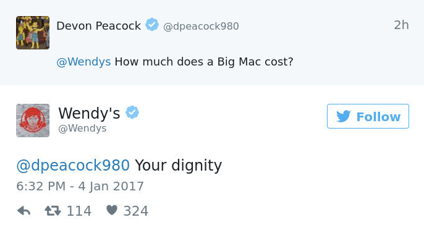 Credit
2. Influencer Marketing
Another effective way to harness digital marketing channels to reach target audiences is with influencer marketing. Brands can partner with celebrities, sites, or others that are considered experts in their field, and that share similar values. Brands can then reach these influencers' followers with branded content and offers. Many marketers have found success with influencer marketing, with 9 out 10 noting that it was the same or better than other channels they use. 
Additionally, 1 out of 2 women based a purchase decision on a recommendation from an influencer. With almost half of social media users relying on brand recommendations from influencers, influencer marketing could be an extremely effective way to boost engagement – and sales – for your business. 
Here is an example of influencer marketing: GoPro partnered up with this Colorado-based influencer, Loki, whose followers include many outdoor enthusiasts. This put their product in front of their target audience, with a recommendation from a like-minded, trustworthy source.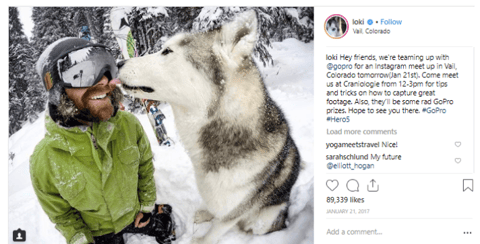 Credit
3. Email Marketing
Email marketing campaigns allow organizations to stay connected with prospects and customers, sending them customized newsletters or offers based on past shopping history or brand engagements. If an individual has interacted with a few of your branded touchpoints – like an email offer for 10 percent off the items they have been considering, or free shipping – that little extra incentive could easily tip the scales from an "abandoned cart" to a completed purchase.  
Nearly 60% of consumers say that email plays a role in their purchase decisions. Furthermore, transactional emails – emails that help a customer do something, like complete a purchase or reset a login –  are more likely to be opened by subscribers.
4. Content Marketing
Content marketing allows marketing teams to be proactive about educating consumers about current and new products in a relaxed and unpressured way, and about answering their users' questions. Digital marketing teams create written content, videos, and other marketing assets to answer questions or provide context to consumers throughout the three stages of the buyer's journey:
The awareness stage: Buyer realizes they have a need 
The consideration stage: Buyer determines a course of action to meet this need 
The decision stage: Buyer decides on a product / service to purchase to meet the need
For example, a consumer might realize they need new shoes to wear to the gym. The digital marketing team for an activewear company may produce a piece about what features you need from a running shoe, as opposed to what you need if you focus on strength training. Looking at this content, the buyer determines they need a pair of running shoes that meets that criteria. Another piece of content might show the most popular running shoes and their price points. Once they are educated on these factors, they decide. 
The guidance offered by your brand throughout this consideration and buying process builds consumer trust and increases the likelihood of a sale. Content marketing is often less expensive than other forms of marketing, while producing nearly 3 times as many leads.
5. Search Engine Optimization (SEO) Marketing
Search engine optimization, or "SEO", often goes hand-in-hand with content marketing. Pieces of content created by the business for their website, blog or other digital marketing platforms, can be written and posted online in such a way that they are more likely to be seen by prospective buyers searching for information on a certain topic than similar content created by their competitors. This writing and posting strategy, and all the techniques and considerations it entails, is known as SEO, or "search engine optimization", because the customer is using a search engine, such as Google, to find info about a product or service. 
SEO, when done correctly, can be an extremely effective part of a business's marketing strategy. In fact, 53% of consumers say that they research their potential purchases using a search engine before making a buying decision, and 51% of smartphone users have discovered a new product or service via a search engine on their phones. 
For example, when the customer from the above example is conducting research on which gym shoes to buy, they will probably click on one of the first three results that appear on Google. With this in mind, the athletic shoe company's digital marketing team works to ensure their article appears in those top three results. This is done by optimizing content for user experience and ensuring the technical elements are in place to enable search engine crawlers to easily find and index this content, putting it right in the prospective shoe buyer's path.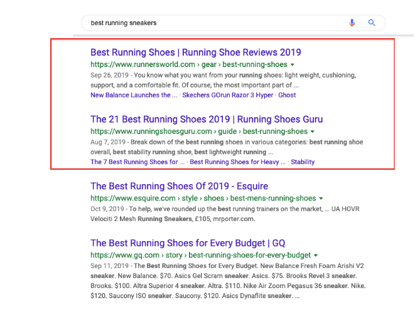 Top search engine results are often dictated by SEO 
6. Pay-per-click (PPC)
Pay-per-click (PPC)  is a form of paid advertising that allows marketing teams to essentially purchase traffic to their website. Marketers place ads on websites or search engines such as Google and Microsoft Bing, and pay a fee each time their ad is clicked on. These ads often appear at the top of the search results page, and are typically determined by bids on specific keywords, while banner ads on websites usually have set prices.  
Using the example of the consumer buying athletic shoes, if the shoe company had been using a PPC ad campaign as part of their digital marketing strategy, the potential customer could have just as easily clicked on the company's ad on the first page of Google instead of their blog, and purchased the shoes directly. 
While PPC and content marketing are often used together, both are effective means of driving customers to a business' website and increasing sales. In fact, many businesses find that PPC, when done right, returns them $2 for every $1 spent, resulting in a 200% return on investment (ROI)!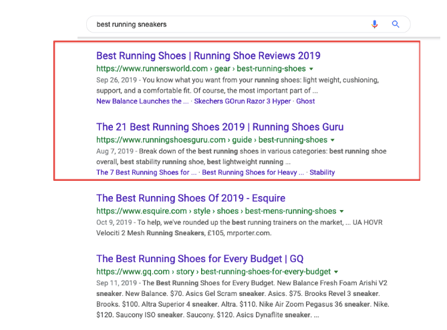 PPC ads are often shown at the top of search engine results
7. Affiliate Marketing 
Affiliate marketing is similar to referral programs, as it involves working with outside individuals or companies under the agreement that they promote your product in exchange for a commission from each sale that can be attributed to their efforts. This is a way to cut down on costs and outsource some of the heavy lifting of promotion, however, you're putting your brand's reputation in someone else's hands, so this type of marketing often requires more extensive monitoring and tracking.
An example of affiliate marketing can be seen in something as simple as a social media user enthusiastically sharing a link to a product they love in one of their posts. "Check out this amazing coffee alternative!" they might say. "It gives me all the energy I need with none of the jitters – and it tastes so good!". If the poster is using a specially-tracked affiliate link to the coffee alternative company's website, and someone who sees their post clicks the link and makes a purchase, the company gets a sale and the poster gets a small commission for sending the new buyer to their website. 
Affiliate marketing has proved so effective for attracting customers and increasing sales that during a survey, 90% of businesses who run an affiliate program stated it was a key part of their digital marketing strategy. 
8. Mobile Marketing
Mobile marketing initiatives can include many of the digital marketing strategies mentioned above, and typically leverage  a combination of text messages, social media, email, push notifications, and mobile applications. The importance of mobile marketing is rising, as it is expected that by 2024, the number of mobile shoppers will rise to approximately 187.5 million users. With the clear move to mobile, digital marketers need to think about how they can optimize their current marketing efforts for mobile to be able to deliver a seamless and user-friendly experience.
Just think of the coffee alternative purchase we referenced previously – the odds are good that that purchase was made on a mobile device. In fact, statistics show that almost 75% of the total funds spent on online purchases are spent on a mobile device, such as a cell phone or tablet. This means that if your business isn't optimizing all your digital marketing methods for optimal use on mobile devices, now would be a great time to start!
9. Marketing Automation Platforms
Marketing automation platforms can be invaluable to any digital marketing strategy. Like so many other digital marketing strategies, marketing automation can be "stacked" on top of other digital marketing platforms to multiply and increase their effects. 
The simplest way to describe marketing automation platforms is to refer to them as software that can perform routine marketing actions on behalf of a business without the need for human action. This lack of need for human action is a key benefit for marketing automation platforms, as this means the platform can essentially "run" parts of a business' marketing strategy on its own, without increasing staff needs or payroll costs. 
A simple example of how many businesses use marketing automation platforms is through email "nurture" campaigns, both before and after a sale is made. When a customer purchases a product on a company's website, perhaps a new computer from a tech site, the company will likely use automation of some type to email a receipt to the customer. They could follow that up with a "thank you" email or text, along with the tracking number of the customer's order, also automatically, and a further email asking for a review of the product a few weeks after the purchase is delivered. Conversely, if the customer did not buy the computer, but instead left it in their online cart and provided their email to be notified when it was on sale, the company would likely not only notify the customer when their prospective purchase was discounted but might also provide ideas for other complementary products the customer could add to their order. 
Small actions like these, made possible by marketing automation platforms, can create significant upticks in sales, driving an average of 14.5% in sales productivity and reducing marketing overhead by 12.2% in the process.
10. Marketing Analytics Platforms
Marketing analytics platforms allow businesses to collect and analyze the data from their digital marketing campaigns to determine how effective their campaigns have been, what ROI they can expect from them, and what can be done to increase revenue from their marketing in the future. 
The benefit of marketing analytics platforms to a company can be compared to the usefulness of a report card to a student: unless you know what results your digital marketing campaigns are getting, you won't know how to correct them in the future. In fact, 21% of businesses cite marketing analytics as the single most effective way to create and maintain a competitive edge over similar companies.
Without marketing analytics, it's all too easy to just keep "doing what you know how to do", putting up content, paying for ads and generally hoping for the best, but all the while, not really knowing what benefits all that work is getting you. With the use of a marketing analytics platform to, for example, track the engagement rates you get on every social media post you put up or see exactly where customers generally get bored and leave your website, you can make changes on your social media posts and website to ensure that the next person who visits becomes a converted lead instead of a lost one.
What Are the Benefits of Digital Marketing Platforms to Businesses?
Digital marketing platforms span several functions in one solution,  allowing marketing teams to gain a more integrated and holistic view of their campaigns, instead of just providing a single benefit that might only touch one channel of a company's digital marketing strategy.
When selecting a digital marketing platform, consider the following advantages of partnering with the right marketing attribution software provider:
1. Track and Allocate Spend
Many marketers struggle with determining which digital marketing channels are driving the most value, and therefore the ones they should spend more on. This challenge is exacerbated by the increasingly wide variety of digital channels they need to be present on in order to build a truly effective digital marketing strategy. 
With this in mind, digital marketing teams should leverage a platform that uses advanced attribution modeling. Attribution is the action of finding out where exactly a customer came from before buying your product, booking a call, or signing up for your event, whether that be from an ad, a social media post, or a word-of-mouth referral. Correctly attributing where each customer originated from provides precious insights into where to more effectively spend marketing dollars and what success rates look like across multiple digital channels, along with generating actionable suggestions on how to then optimize ad spend and other marketing costs.
There are many types of attribution models – and if your team is using outdated models (like last-click attribution), you could be missing out on opportunities to make the most of your digital channels. Using a digital marketing tool, marketing teams are more likely to glean accurate attribution models, such as those derived from unified measurement.
2. The Right Ads to Drive Conversions
With the right digital marketing platform, you can gain a better understanding of what type of content resonates with your customers across platforms. This allows digital marketers to understand which voice and creative elements garner the most engagement, and ultimately, the most sales and revenue.
These platforms can also assist in building out more comprehensive user profiles that help marketers to understand when to show their target audience an ad or a post, and on what device, leading to even greater brand awareness and beefing up the bottom line.
3. Correlate Qualitative and Quantitative Results 
The right digital marketing platform will help you make better choices around how to drive revenue when planning media, tracking your brand across channels, leveraging new advertising techniques or conducting media buys. A major part of this is assisting marketers in understanding both direct response campaigns and more qualitative campaigns, such as brand building. Digital marketing platforms can assist in developing the KPIs to test these, and provide metrics into how their value compares over time.
How to Choose the Best Digital Marketing Platform
Choosing (and using)  the best digital marketing platforms for your business is critical to understanding what is or isn't working in a marketing campaign, and ultimately, in an overall marketing strategy. When deciding which digital marketing platform is the best fit for your needs, there are a number of considerations to keep in mind:
Clean Data
Creating an effective digital marketing strategy for your business demands a foundation of timely, representative data. Digital marketing platforms that do not prioritize data quality and adhere to strict data quality standards will not make good software partners. This is especially true if you rely on these partners to augment your organization's own data with second and third-party data sources. Remember: your marketing strategy is only as good as the data it's built on!
Relationships with Third Parties
When allocating media spend and budget, it's important to consider the relationships your third-party digital marketing platform provider has – they may have integrations with other tools or data sources to provide additional context to your media plans, and in fact, they should! If you're using a digital marketing platform to create a media plan, these relationships can be leveraged to provide a more complete view of the customer, streamline your marketing planning and execution process, and ultimately save you precious marketing dollars down the road. 
For example, if a digital marketing platform has relationships with television networks or periodicals, your organization can use this subscription data to get a better understanding of who has been exposed to your offline ads, as well as which potential customers you've been reaching online.
The Ability to Look at Campaigns Holistically
Your business is likely running both online and offline marketing campaigns, so your digital marketing platform should not be limited to just measuring digital marketing campaigns. Invest in a solution that can take both into consideration to provide you with the most accurate insights and profitable recommendations.
Additionally, and specifically regarding digital marketing platforms, choose tools that can give you accurate visibility across multiple marketing channels, not just one or two. Choose digital marketing platforms that can help you oversee, analyze and plan for marketing campaigns across social media, email, SMS, your website, and more all at once to gain the greatest digital marketing efficiency and effectiveness for your business.
The Marketing Attribution Model
Not all marketing attribution models are created equal. If your digital marketing solution is not taking advantage of unified marketing measurement, your legacy, outdated measurement models can give inaccurate recommendations, costing you time, money, and frustration in the process For example, if your digital marketing platform is using media mix modeling or single-touch attribution, your team will constantly be relying on outdated, historical metrics, or could be missing key data regarding the buyer's journey. Choose digital marketing platforms that use only updated, state-of-the-art attribution models, to make sure the "data foundation" of all your digital marketing campaigns is strong, reliable, and consistently accurate. 
Digital marketing platforms are powerful resources for businesses attempting to be present across a multitude of online channels,  and ensuring this presence is driving value (and sales!). Tools like Marketing Evolution's single closed-loop platform enable marketers to measure and optimize marketing performance, sales, and engagement by providing a holistic view into the success of a campaign at every touchpoint. With the ability to track granular data like media exposures, sales, and geolocation, you can derive actionable insights that can inform decisions and guide marketing efforts in the future. 
Before choosing a digital marketing platform, determine your goals and KPIs to find the platform that covers the correct functionality to align with your business needs.
The bottom line: your digital marketing strategy is only as good as the platforms (and data!) it's built on, and choosing the right digital marketing platforms can open up your brand to a whole new level of efficiency, results, and success.

Additional Tips and Resources
Digital Marketing Platform Guide: Definition & Examples