It would take some penalty to put a meaningful dent in Amazon's $3.17bn profits, which beat analysts' expectations when announced a few days ago.
Yet it has been a (comparatively) rough time for the online giant, which began the year announcing 18,000 job cuts globally as part of a major rationalisation programme.
In the UK, it has also been forced to look again at the way it deals with suppliers, since its designation last year under the Groceries Supply Code of Practice (GSCOP).
Now draft legislation unveiled by the government, in the form of the Digital Markets, Competition and Consumer Bill, aims to give competition watchdogs the sort of fining powers that would make all that look like small fry, even if its arrival has gone largely unreported in the national press.
So what is the bill and what could it mean for Amazon and its relationship with food and drink suppliers?
The draft legislation published last week is intended to tackle the omnipotence of major online companies that it defines as having 'Strategic Market Status' (SMS).
While the legislation doesn't name names, competition lawyers expect it to cover companies including Amazon, Apple and Google. With a maximum fine at its disposal of 10% of global turnover, the message to SMS companies seems to be the government means business.
Digital Markets, Competition and Consumer Bill explained
What it does: The CMA's Digital Markets Unit is in line to gain powers to tackle dominance of a small number of tech companies with Strategic Market Status, likely to include Amazon, Apple, Google and Meta.
Investigations: Rules will mirror the CMA's market investigations, which can order structural remedies or divestments, but outcomes are expected to come in nine months as opposed to 18.
Remedies: Include forcing companies to allow access to alternative app stores and sharing data.
Penalties: The CMA could award compensation to consumers and impose financial penalties of up to 10% of global annual turnover on businesses or up to £300,000 on an individual.
When: The bill is expected to come into force in autumn this year at the earliest.
Source: UK legal experts
New codes of conduct
If passed by MPs, sweeping new powers will be granted to the Competition & Market Authority's new Digital Markets Unit (DMU), to tackle the "excessive dominance" of the handful of tech companies "stifling innovation and growth", according to trade minister Kevin Hollinrake on introducing the plans.
"The concern from government and the CMA is that existing competition law powers don't allow regulators to act swiftly enough in markets that can be rapidly disrupted by entry from a large technology player like Amazon," says Katherine Kirrage, digital markets competition partner at Osborne Clarke.
"Much like the GSCOP, the new codes of conduct will govern how Amazon interacts with third parties and the CMA will have wide-ranging powers to intervene when the codes are breached."
Martin Heubel, founder of Consulterce and a former Amazon executive, says even a company the size of Amazon will sit up and take notice of the new powers, the second time in the space of a year that it has faced such scrutiny, following April 2022's designation under GSCOP. Amazon is also facing a similar challenge in Europe from the EU's Digital Markets Act.
"The bill is one of the most anticipated pro-competitive regulations for digital markets in the UK," he says. "Not surprisingly, the impact on Amazon will be significant. After all, it is known for its 'unique' approach to its supplier relationships."
With Amazon's current focus on cost-cutting, it's already clear first-party suppliers are feeling the squeeze adds Heubel.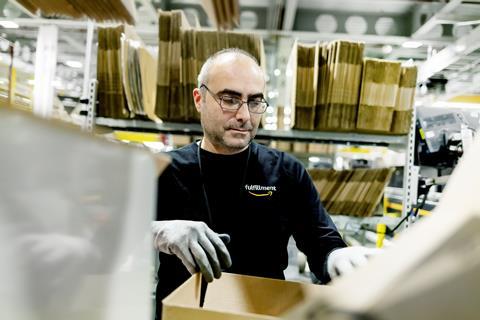 "Pressure tactics to maintain cost prices and increase Amazon's retail margin have become routine for most suppliers. While multinationals can mostly offset and balance the margin impact with other, often larger, retail customers, small to mid-sized brands feel the brunt.
"For example, if Amazon does not allow an increase in cost prices during times of rising inflation, many brands have to pull the plug on selling these products on the online marketplace, ultimately limiting choice for end customers and competition on its marketplace."
"Amazon acts as a gatekeeper that wants to dictate at what prices products are sold and how much share brands can receive as a margin from each sale. Combined with Amazon's ambitions in the private label segment, where the online retailer has often been accused of favouring the visibility of its own products in search results, the Amazon marketplace leaves an anti-competitive aftertaste in the minds of many end consumers.
Heubel says he expects Amazon to be forced to become transparent in explaining how it distributes visibility in its search results as well as under what circumstances it will accept CPI requests and changing ordering patterns and trading terms with first-party suppliers.
The draft legislation is a "major milestone" according to Tom Smith, a partner at Geradin Partners and former legal director of the CMA, who with a group of lawyers working in the UK, Europe and the US, is spearheading a coalition of suppliers lining up possible legal action against Amazon.
Claiming to have already signed up many suppliers, ranging from small companies with less than £100,000 a year turnover to major ones, and including an unnamed lists of food clients, the Responsible Online Commerce Coalition (ROCC) plans to use the new legislation as the stick with which to beat Amazon.
Areas of concern
The ROCC has listed a raft of areas of concern over the actions of the online retailer, including sellers not having equal access to the platform, lacking a fair dispute resolution process and the freedom to set prices and offer discounts, and not having equal access to data from the platform.
"We hope and expect Amazon will be included in the list of companies designated under this legislation," says Smith, who is now calling for the CMA to launch a market investigation into Amazon, as it has previously carried out on Facebook (now Meta) and Google.
Lawyers also suggest the legislation may have big implications for Groceries Code Adjudicator Mark White, just as he prepares to present the first supplier survey to cover their relationships with Amazon.
"The main purpose of GSCOP is to ensure that large grocery retailers, including Amazon, always treat their grocery suppliers fairly," says Kirrage. "Under the new legislation the DMU will have similar powers on fair dealing, open choices, trust and transparency.
"However, it remains to be seen whether its scope will extend to a broader range of activities by digital firms such as Amazon. It's possible the Bill will focus predominantly on other Amazon activities and will not go as far as to regulate its grocery business and supplier relationships.
Kirrage adds it is also possible the DMU could take over some of the GCA's responsibilities.
"Should Amazon's grocery activities fall within the bill's remit, this could lead to Amazon being exposed to a significantly starker range of fines", she says. This is where the 10% of global turnover comes in, rather than the 1% of UK turnover limit under GSCOP.
The bill also "introduces personal responsibility of senior managers and directors", adds another legal expert, who wanted to remain unnamed.
"Senior managers will be responsible for compliance with information requests and directors will face possible disqualification for breaches of conduct requirements.
"This is a potentially drastic consequence which may be untested and unprecedented."
However, lawyers warn the bill also has potentially negative implications for suppliers who themselves have been increasingly setting up direct-to-consumer online operations.
It sets out a series of obligations designed to prevent so-called "subscription traps" and "roach motels" where consumers get trapped into subscriptions they either did not intend to take out or would like to cancel but do not know how.
"This will have huge implications for any manufacturers offering subscriptions direct to consumers," says Katrina Anderson, associate director at Osborne Clarke.
"Once the legislation comes into force it will be necessary to send consumers reminders by email every six months. Consumers will also get an additional 14 day cooling off period after a free trial or low cost introductory offer for non-perishable food and other grocery subscriptions. During which they can cancel the subscription with no questions asked."
Plenty of questions remain about the new bill, not least whether it will make it through parliament before the next election.
But both Amazon and its suppliers will no doubt be watching carefully to see when it does. And with potential financial penalties big enough to make even Jeff Bezos sit up and take notice, the DMU is unlikely to remain under the radar for too much longer.
How the Digital Markets Unit bill could force Amazon to change its ways | Analysis & Features